The stuff of everyday life is the inspiration for my art. I long to translate these memorable moments by telling their stories through pastel, line and brush.
I enjoy painting "alla prima" (all at one sitting) whenever possible in my work. There is a short window of time to capture a moment's changing light, texture, color, flow and mood that makes painting in this way a challenging and exciting experience.
My early studies were at the American Academy of Art in Chicago and with painter Robert Oliver Frick in Vermont. Most recently I have studied with artists John Whelan and Rose Frantzen.
Video of Julie Johnston by Jade Fang. First Place Winner of the "Give 'em the Business" division in the Frozen River Film Festival's inaugural "30 Seconds in Winona" video contest.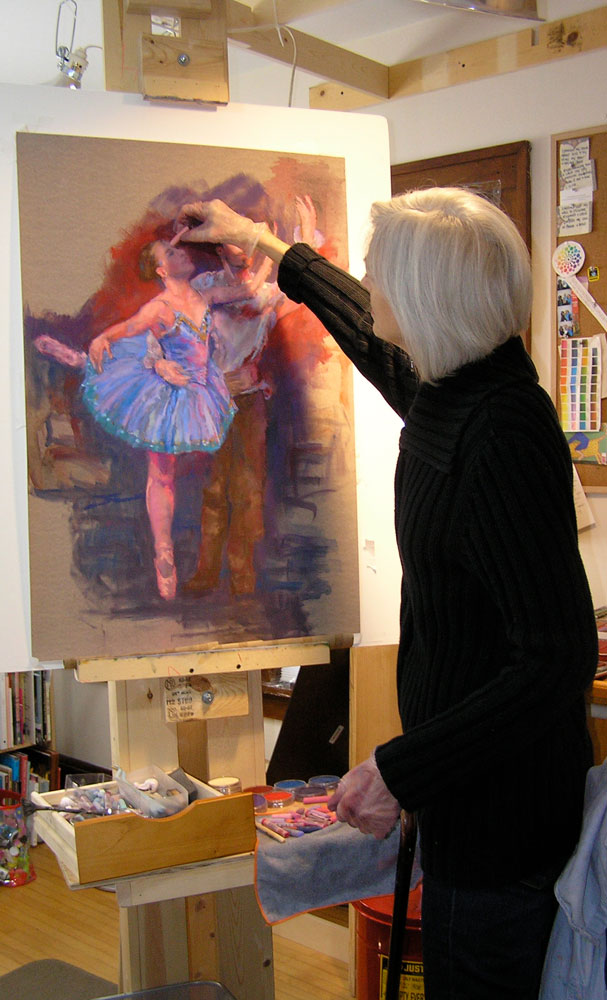 "I have been doing art in some form most of my life.  My earliest memory is from kindergarten of standing in front of an easel with brush in hand and putting all of the beautiful bright colors on paper," Johnston tells me. Her love of art only grew from there, and "[a]s I got older I was interested in drawing and painting people. This led me to study for a short time after High School at The American Academy of Art in Chicago where I studied life drawing and still life."
Johnston's paintings and drawings cover a variety of subjects; she enjoys portraits, still-lives, and landscapes in which she tries to capture the personality of her subjects: "I feel as though painting a flower or vegetable is portrait painting as well as painting people," leading her to "frequently buy food for how it looks rather than how it might taste!" The bright colors and vivid portrayal of her subjects' characters make Johnston's work unique. "My style has been described as impressionistic but also as realistic," she says.
I asked Johnston what has been her most enjoyable project, and she tells me, "One of my favorite projects was drawing and painting the dancers from the MCA in Winona for a year. Following the dancers from tryouts through rehearsals and then in makeup, backstage and onstage created a riot of color and form that totally captivated me." She mentions that she's "currently working on an idea for an ambitious new project but until it comes together I'll just say I'm very excited about it and hoping to begin work this fall – I wouldn't want to jinx it!"
Johnston's display at BCC [Bluff Country Co-op] includes note cards featuring images of fruits and vegetables as well as scenes from Winona, all portrayed in bright, eye-catching color. "I am so pleased to be able to exhibit at the BCC," she says.
—Written by Kate Larson of the Bluff Country Co-op